The Creative Diary in Quarantine 05 – Ugly art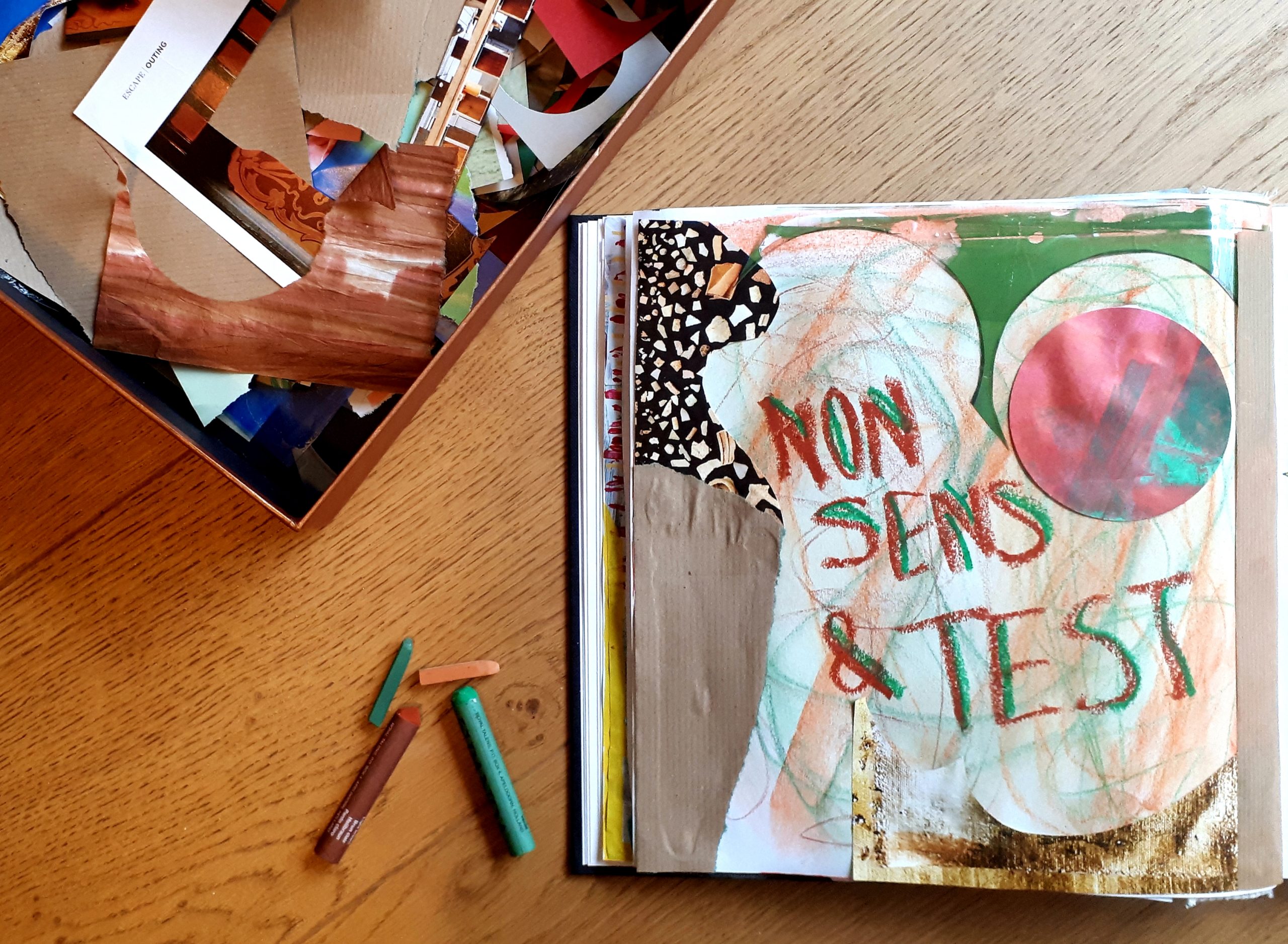 About perfectionism and ugly things …
Some of us (many of us) are perfectionists: the things we do and make must be beautiful and perfect. Sometimes that can be useful, but if we exaggerate, it can also be something that seriously prevents us from living and creating fully. So it's time to DARE to allow the ugly and imperfect in our lives.
Drawing and writing
This will be a test moment: a test moment for all material that you never dared to test (because too new, too beautiful, too …), a test moment to fully use your page and a test for the 'leftovers' lying around everywhere. Take a (double) new page in that beautiful, perfect diary of yours. For this exercise, use all materials EXCEPT oil pastel! Keep those to the end.
Fill your page first by taking something of colour in both hands (a chalk in your left hand and a marker in your other hand, for example). With your eyes closed, draw lines and shapes and colors on your sheet. Let both hands dance over your tray at the same time and change direction or rhythm if necessary (once rapid and once slow).
And now go further … change material, colour. Use the colours that you normally never use or find ugly. Glue some leftover papier (I have a leftoverbox) on your page, or pieces of paper that you never used before. It becomes mess, it becomes anything and nothing, it becomes abstract! Do not search for a result. Play with textures and colors. Don't bother about anything.
Write in the center of your page with bold chalk (or something else that stands out): "Nonsense and Testing" Do not write too beautiful or too perfect!
HAVE FUN & LET GO !!!
"Perfectionism magnifies your mistakes and minimizes you progress."
What if … you have a new diary that you don't like it to be 'tainted'. Definitely do it! This is THE ideal exercise to start in a new diary.
What if … you are too scared. That is your inner critic talking to you. Just reassure him: you can always stick the pages together afterwards so that it is no longer visible, you can always cut out your page or even start on a separate page to glue it later in your diary.
TIP: Making ugly art is a typical exercise that is done in many art schools so that students dare to start again. Because it is only by making 'scraps' that you can create something new in the long term. Many sketches preceded each work of art in a museum.
Important to know:
Working in a Creative Diary is NOT about results, it's about expressing you inner self. It is NOT about techniques, techniques only help you to express yourself in more different ways. The exercises I give are an INVITATION, not an obligation. You can do the exercise, or not, you can do it differently, it's at your choosing. The most important thing to remember is that you're putting yourself and your (inner) world on paper, you are NOT making art. So feel inspired by images, but don't compare yourself ! Fun and self-expression come first.
What do you need?
markers
coloured pencils
writing materials
scissors
glue
watercolour
soft pastels
oil pastels
some magazines
And of course: a journal/diary. I recommend an 8,3 inches x 11,7 inches notebook (A4 format) with blank paper, but take whatever you find in your house. Blank papier is good too.
More information:
The exercises used in this Creative Diary are based on a method described by Lucia Capacchione, American art-therapist and author of the book The Creative Journal, by Anne-Marie Jobin, Canadian art-therapist and author of the soon to be coming book The New Creative Journal, and myself, Sarah Timmermans, Belgian art-therapist and psychologist (Dutch book: Het Creatieve Dagboek). The method blends knowledge from writing therapy, art-therapy, psychology and basic creativity. It's a simple method that doesn't requires any artistic skills and has been used with many ages, many individuals and many groups of people. More questions? Please write me.
Who am I?
I'm Sarah Timmermans, Belgian art-therapist, naturopath and psychologist. I'm trained by Jungian art-therapist/psychologist Csilla Kemenzcei. I work with individuals and with groups. I'm specialised in using diaries, tarot (archetypes) and dreams.